Brazil – Members of a church welcomed a homeless drunk man who asked the preacher if he could sing. When he started to sing, the Holy Spirit fell and everyone astonishingly entered into worship.
The beggar suddenly entered into the midst of the congregation while the pastor was preaching. In a viral video the homeless man seemed drunk. First, he sat in front of the pulpit and eventually got up and asked the pastor if he could sing.
Nevertheless, after several attempts, the pastor gave in and let him sing in front of the congregation. That's when everyone was blown away.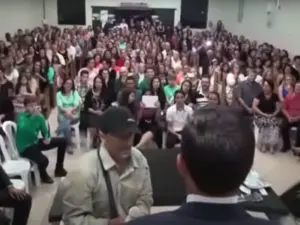 The man who  began to worship with powerful and incredible voice sang:
"For all of my life. Oh Lord I will praise You. For my air is Your life. And I will never get tired. I can hear Your voice. It is sweeter than honey. That pulls me out of this cave.."
Shortly after, the congregation stood to their feet and began to worship God as well. The Holy Spirit fell in the room, bringing some to tears. The homeless man continued to lead them in a powerful time of worship.
One witness Marcelo revealed that the homeless man was Pastor Mendigo Rogerio Brito. He apparently goes to churches and pretends to be a drunk man to put the church to a test.
Marcelo explained, "Hi! I am from Brazil. He is a former beggar that dresses this way and enters all churches in Brazil to see how they will treat him. To teach people not to be hypocritical anymore. To teach them that church is God's home, not theirs."
He continued to share, "And he has truly a beautiful and powerful voice to praise Lord. It has nothing to do with promoting himself or the church he visits. It has nothing to do with a drunk pretending to be saved, to find the path. And it has to do with showing hypocritical people. In the end of all his visits, he reveals his identity to all. He is also a pastor. You will see videos where he is not dressed like a beggar. That is it!"
Indeed, this pastor has proved beyond doubt that the church is embracing the broken and protecting the weak. This shows great lessons!